See what accountants in Malaysia have to say about QuickBooks Online.
Stella
Chartered Accountant at QB Services Sdn Bhd

CT Chee
Chartered Accountant at AccPro Group
GST-ready cloud accounting software for Malaysian businesses
Invoices
Track GST within your invoices and QuickBooks Online will capture the output tax
Invoice screenshot
Expenses & Purchase Orders
Track GST within your expenses and purchase orders and QuickBooks Online will capture the input tax
Expense screenshot
PO screenshot
General Audit File
Generate your General Audit File (GAF) can be generated in XML format
GAF screenshot
Three reasons why QuickBooks Online is the perfect way to work with your clients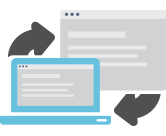 Improved Collaboration
When you share data with clients
in the cloud, you get fewer mistakes
and better collaboration.

Ditch The Desk
With access anywhere and anytime,
the world isn't just your oyster;
it's also your office.

Uncover More Insights
With up to date, reliable data,
you can discover and harness
powerful business insights.
Three reasons to join the ProAdvisor Program

Free certification training
With QuickBooks Online certification, you quickly become the expert. Attend free classroom trainings in KL.

Exclusive pricing
Receive ongoing discounted pricing for introducing QuickBooks Online to your clients.

Dedicated Customer Care
Get all the support you need. As a ProAdvisor, you get access to our dedicated, specially-trained care team.
Get in touch and join the Intuit ProAdvisor Program
Enter the details and we'll get in touch with you soon
Already have customer on QuickBooks Desktop? Migrating to QuickBooks Online is Free